Galeo was built for theft prevention & recovery with its 4G cellular capabilities, motion alerts, audible alarm, long battery life, and durability.  AirTagⓇ was built to track household items you commonly misplace, like keys or backpacks. 
AirTagⓇ is enabled by Bluetooth, which is ideal for tracking household items you commonly misplace. Using Bluetooth, you can locate the last time and place the AirTag was within 50 ft of your phone or another iOS device. But what happens when your asset isn't near your phone and it's too far away? How do you know it's safe? 
If you're trying to track a trailer at the job site across town, a fish house at its seasonal spot, or an ATV in winter storage, then you need a durable asset tracker that you can rely on. Galeo has built-in cellular and GPS modules so that you can track your assets from anywhere there's 4G cellular service- and each tower can track items within 45 miles (237,600 feet). 
In the unfortunate event that your high-value asset is stolen, it's important that you know right away. Galeo sends a motion alert to your mobile iOS or Android device so that you know if an asset is moving when it shouldn't be. To ward off thieves, Galeo Ride, our tracker for bikes, will automatically sound a 90db audible alarm.  AirTag has a 60db alarm that is noticeably quieter, and it must be activated to sound, so it's likely the alarm would be enabled well after the owner discovers the item is stolen. 
If you're evaluating asset trackers to protect your high-value assets from theft, then you need a tracker that can do more than find lost household items within close range. Here's a more detailed look at how Galeo compares to AirTag.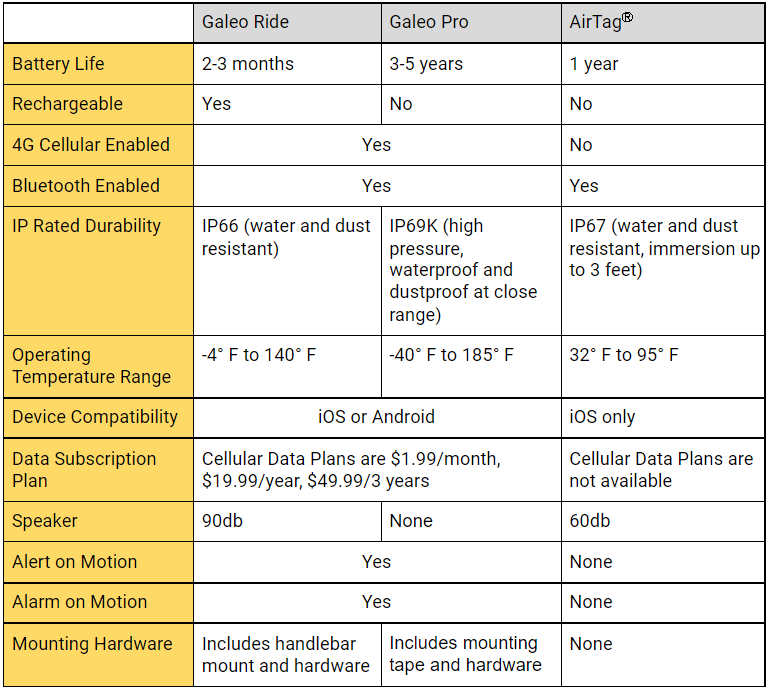 When your assets are stolen, it's painful to go through the process of filing a police report, making an insurance claim, and replacing your items- especially when recent supply chain shortages have created months of backorders. 
Invest in your peace of mind, and get Galeo's long battery life, reliable 4G cellular tracking, and IP-rated durability to protect your high-value assets from theft.